Rackets Up, the corporate social responsibility project of Hitit, the aviation technology company that exports to the world, continues its mission with a partnership with the Turkish Table Tennis Federation. Previously held in Çorum, Isparta, and Trabzon, Rackets Up this time, met with the children and youth of Sanliurfa. Launched in 2018 with the aim of encouraging children and youth to increase participation in sports through table tennis, the project moved to Sanliurfa after the pandemic. Reaching 115,000 students so far, Rackets Up has trained 287 teachers to be certified as table tennis coaches.
24.03.2022, Sanliurfa - Exporting software solutions to 54 airline companies in five continents today, Hitit carried its social responsibility project, Rackets Up, to Sanliurfa province following time spent in Çorum, Isparta and Trabzon. The event took place on the 24th of March, 2022 at the GAP Arena Sports Hall.
Aiming to bring children and youth together with table tennis, to inspire them to enjoy a healthy lifestyle, Rackets Up was started in 2018 by Hitit in cooperation with the Turkish Table Tennis Federation.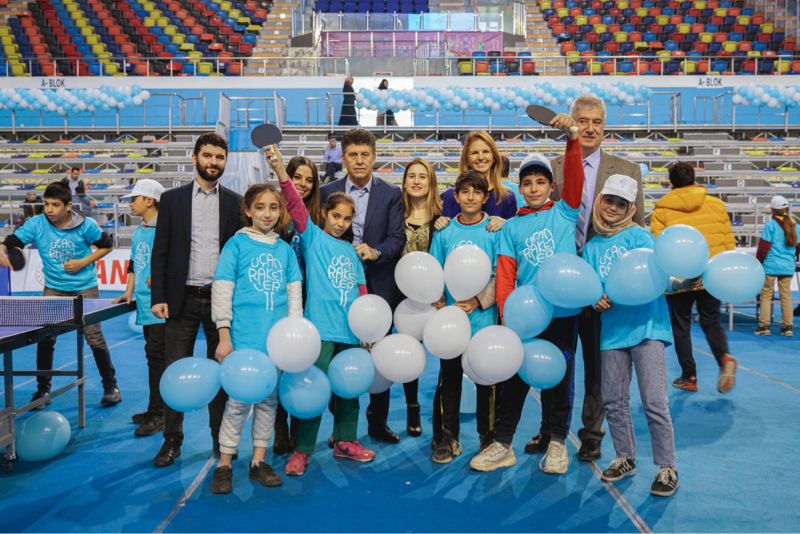 Professional table tennis with trained coaches
Within the project scope, first, the schools in need throughout the provinces are identified, and then, table tennis equipment is provided. Simultaneously, the students are being trained by the teachers who have received a coaching certificate following a professional training course given by the Turkish Table Tennis Federation. In addition to supporting the mental and physical development of children, the project aims to discover and support young talents who potentially grow into athletes representing our country worldwide in the table tennis field. Thanks to the Rackets Up project, more than 30 thousand children from 55 schools in Çorum, 41 schools in Isparta, and 77 schools in Trabzon have all used the opportunity to receive professional table tennis training.
100 schools and 85.000 students in Sanliurfa were included in the project
With Rackets Up, table tennis tables and materials were provided to 100 schools in Sanliurfa that hadn't had table tennis equipment before. The equipment was combined with a professional training program, and the Level 1 Coaching Course for 100 teachers was completed. The teachers that completed the training and received their certificates will be providing voluntary support for the expansion of table tennis in schools.
Equipment support to Syrian schools
In Sanliurfa, the schools on the Syrian border were not forgotten, and table tennis equipment including tables, rackets and balls were also provided to the secondary schools of El Cerrah, Ayn-Arus, Hasan El İsa, Suluk El Garbi, and Ali İbn Talip in Tel Abiad, which are all affiliated to the Sanliurfa Provincial Directorate of National Education.
The Sanliurfa launch of the project took place on Thursday, March 24, 2022, at the GAP Arena Sports Hall. Attended by Sanliurfa provincial protocol members, Hitit and TMTF Officials, project stakeholders and the volunteer teachers along with students from project schools, the event attracted great attention.
Hitit Deputy General Manager Nevra Onursal Karaağaç stated in her speech: "The pandemic affecting the world not only impacted our economy and social life, but also our relationship with sports, which is an indispensable part of an individual's healthy life. The future benefits of children's acknowledgement of sports as a way of life has become even more important. For this reason, we are also experiencing the excitement of once again touching the lives of our children in this normalization process with Rackets Up, which unfortunately we had to take a mandatory break from due to Covid19. Our project, which has previously reached more than 30 thousand children in Çorum, Isparta and Trabzon, and now today in Sanliurfa, will continue with different provinces to promote the sport of table tennis throughout the country and expand it as a popular sport. The table tennis tables and equipment provided to 100 schools in Sanliurfa, with the valuable cooperation of the Turkish Table Tennis Federation and the provincial local government, constitute only one phase of the project. In addition, by providing material support to five schools on the Syrian border, our children in these schools will also have the opportunity to benefit from the project."
Turkish Table Tennis Federation President Oktay Çimen said: "Our biggest goal is the success of the Rackets Up project, which we carried out together with Hitit, to protect our children and youth from bad habits and bring our youth, who are our future, into society. We aim to see our national athletes emerge from among our children who will grow up here."