In today's challenging airline market environment, airline loyalty management solutions and frequent flyer programs have become a significant characteristic feature for air carriers to attract new customers and retain the existing ones. Therefore, airlines need loyalty management solutions and services to recognize their customers at any touch-point, create personalized offers and contact loyalty program members with the right messages at the right time. It is an important element of any airline's customer relationship management strategy.
Crane Loyalty Layer (Crane LL) is an end-to-end airline loyalty management software addressing the most advanced loyalty management needs of airlines. Crane's loyalty system provides a perspective on customer loyalty management program and establishes the infrastructure needed for utilizing the customer base with analytics and intelligent campaign management utilities.
Crane Loyalty Layer (Crane LL) is an integrated part of Crane PSS (Passenger Service System). This alliance between the two systems enables airlines to manage their frequent flyer and airline loyalty programs with better efficiency. Enriched with a long history of product development based on requirements from major airlines across the globe, it contains the most comprehensive loyalty management solution's functionalities. Crane Loyalty Layer (Crane LL) is one of the leading loyalty management solutions in the entire airline and travel IT market.
---
Customer Acquisition

For a loyalty management program to attract members, there must be a wide range of benefits and they have to be relevant. Sky is the limit when it comes to the number and combination of rules, rewards, and targeted promotions that can be defined within the Crane Loyalty Layer software.

Increased Sales

Crane Loyalty Layer software ensures that revenue targets are kept and increased through ancillary revenues and up-sell opportunities for airlines. Since there's no limit for the number of partners and campaigns the system can manage, Crane Loyalty Layer (Crane LL) provides campaign management tools that will make a difference. Frequent flyer miles and points can be sold to program partners as well as members.

Increased Brand Value

Airline Loyalty management systems themselves are becoming profit centers today. Crane Loyalty Layer enables airlines to manage their frequent flyer programs (FFPs) as profit centers, purchasing extra inventory from the airlines they operate in. Crane Loyalty Layer plays a significant role in creating customer loyalty and increasing brand value by keeping the service levels high.
---
Components
| | | | | |
| --- | --- | --- | --- | --- |
| Profile Management | Partnership | Advanced Rule Engine | Tier Management | Finance |
---
Key Features
Complete customer profile across all systems
Advanced business rules engine
Enhanced partner management
Personalized communications
Embedded industry standard adaptors
Full integration
Multilingual support
Scalability
Complementing products – customer care layer
---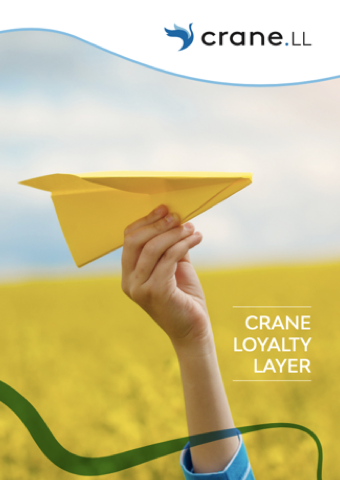 Download
Brochure
Download our up to date brochure in pdf format.