Airline reservation and passenger service system is the most critical aspect for airlines, which handles activities with their actual and potential passengers, and can create customer loyalty and satisfaction. Innovative and technological reservation and passenger service system assists airlines in boosting their capacity in inventory management, distributing over direct & indirect sales channels, promotion management, e-ticketing, online booking and airline ancillary services for better up-sell and cross sell.
Crane PAX, (Reservation and Passenger Service) is a modern turnkey solution, that allows airlines and affiliates to create, design, distribute and deliver advanced passenger services. As a full-fledged web-based airline reservation system, it comprises inventory management, fares, marketing tools, central reservations (CRC), online and mobile reservation and ticketing, agency distribution and many other services. Fully integrated with all major GDSs, Crane PAX (Reservation and Passenger Service) provides a rich set of web services and integration options for reservation and passenger system management.
---
Fair Pricing Structure

Reservation and Passenger Service (Crane PAX) pricing is based on boarded passengers only. This pricing strategy reflects Hitit's understanding of mutual growth. Therefore, there are no hidden costs or additional charges for the use of different access methods or services.

Improved Revenue

Reservation and Passenger Service (Crane PAX) provides various efficient direct distribution channels, including a private agent network platform. The system also supports distribution to indirect channels. Crane PAX (Reservation and Passenger Service) allows airlines to build and develop airline partnerships.

A wide range of supported ancillaries, which can be sold both stand-alone and in bundles, generate extra profit for the airlines. This increases market reach as well as competitiveness of the airline on the market.

Passenger Oriented

Reservation and Passenger Service (Crane PAX) is designed to provide ultimate passenger experience based on behavioral patterns. Specialized services across various passenger touch points increase repeated purchases and loyalty as well as deliver better service quality. Passenger satisfaction is maximized with customer recognition features, self-service facilities and shorter service time.

Customer Value Consideration

Reservation and Passenger Service (Crane PAX) comes fully integrated with the best-in-class loyalty solution -Crane LL (Loyalty Layer) and Crane CCL (Customer Care Layer)- or can be integrated with any external loyalty or CRM system. Crane PAX (Reservation and Passenger Service) contains all the necessary tools to create value for the airline customers, increase satisfaction, profits and repeat purchases. Putting customer first, Crane PAX (Reservation and Passenger Service) excels in each area from availability checks to wait list clearance.
---
Components
Inventory
Management

Reservation
& Pricing

Fare
& Pricing

Ancillary
Management

Codeshare / GDS
/ Interline

Promotions
& Campaigns

Distribution
& Sales
Management

Internet & Mobile
Booking Engine

Mobile
Application

Agent
Management

Payment

Group Booking
Management

Reporting
---
Key Features
Advanced inventory management
Easy to configure fare quotation and management
Distribution over direct & indirect channels
Interline and code-share management
Automation of airline ancillary services at each touch point
Promotion management
E-ticketing
Wide range of payment options
Extensive customer touch points & self-service
Open APIs for customer's own end-user layer applications
Integrated internet and mobile booking engine
Customize airline ancillary services to increase customer upsell
IATA standart Electronic Miscellaneous Document (EMD) support
---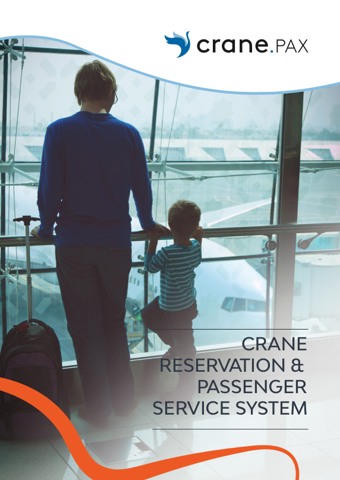 Download
Brochure
Download our up to date brochure in pdf format.