Internet Booking Engine is a web-based booking system, that allows passengers to make bookings and manage their flight reservations and benefit from other services available. An internet booking engine lets customers specify their travel requirements such as city of departure, destination, departure&return dates, and class of travel.
Crane Internet Booking Engine (Crane IBE) is a highly customizable, new-generation online booking engine for airlines. Its responsive interface is suitable for both mobile and web. Crane IBE (Internet Booking Engine) has a convenient graphical user interface that allows to design targeted booking processes and offers, providing insights from different market segments. The airline internet booking engine solution (Crane IBE) allows multi-channel integration for sales and reservations via web, mobile, call centres, on-site kiosks or front desks with full a back end integration with each customer touch point. Crane Internet Booking Engine (Crane IBE) for airlines can be connected to Global Distribution System (GDS) and other travel content sources. Airline Internet Booking Engine is available in more than 10 languages, supports all common currencies and integrates with major secure payment gateways.
---
Self-Service Features

With Crane Internet Booking Engine (Crane IBE), passengers can book, modify flights and receive mobile boarding passes themselves, without having to call airline agents or visit airline offices and counters.

Fast Implementation

Crane Internet Booking Engine (Crane IBE) solution can be implemented quickly without any infrastructure costs and can be integrated in any hosting system.

Extended Functionality

In addition to its booking features, Crane Internet Booking Engine (Crane IBE) allows passengers to manage and edit personal information, reissue bookings add or cancel extra services.

Ancillary Products

Internet booking engine (Crane IBE) allows airlines to place and sell ancillaries during the ticket booking or check-in processes. Thanks to the Crane system's flexibility, it is possible to offer paid and free services as a 'bundle' or separately.
---
Components
Internet
Booking Engine

Mobile Booking
Engine

Check-in

Mobile Ticketing
---
Key Features
Internet / mobile bookings
Internet / mobile check-in
Reservation management
Flexible ancillary service design
Flexible booking viewing and processing
Multilingual support
Wide range of payment alternatives
ynamic currency conversion
Mobile tickets
Sales support before and during check-in
---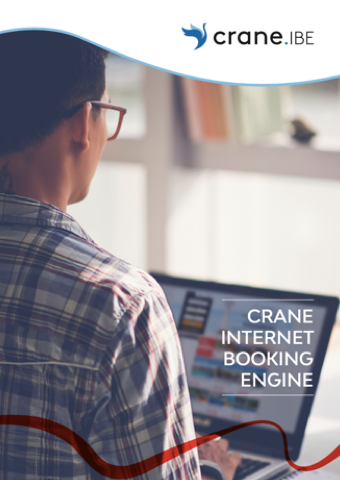 Download
Brochure
Download our up to date brochure in pdf format.