Airlines need to observe, manage and swiftly react on their end to end processes. Airline operation control system helps them plan and configure their daily operational activities, that's why Operations Control solution is a remarkable tool for airlines to track and react on their daily needs.
Crane Operations Control (Crane OCC) is an advanced airline operations control solution that addresses even the most demanding airlines' needs. It supports all airline and flight operations control integration industry standards and provides tailored configuration for different end-users, as well as extensive functionality in maintaining schedules.
Crane Operations Control (Crane OCC) is a proven and flexible solution. It has been implemented with many airlines which have totally different operation requirements and therefore is able to support various needs and business models. Crane Operations Control (Crane OCC) has a rich functionality, less customization requirements in comparison with other solutions on the market, and it helps to reduce operational risks.
---
User Experience

Color-codes and attribute tags enhance the Crane Operations Control (Crane OCC) user experience. Automatic warning system and assistance mechanism decrease the margin of error, providing user-friendly process management for airlines.

Integration

Crane Operations Control (Crane OCC) offers extensive integration capability. It can be integrated with advanced crew planning, schedule planning and a wide range of other airline systems. Crane Operations Control (Crane OCC) provides effective assistance to decision makers and airline operational departments.

Disruption Management

Crane Operations Control (Crane OCC) allows to see delays, airline schedule disruptions and a built-in connecting passenger analysis module (available with Crane PAX). Together with dynamic timing calculations Crane Operations Control (Crane OCC) allows to take necessary precautions easily.

Competitive Power

Crane Operations Control (Crane OCC) is a fully automated system with handles all the industry standard messaging types such as Movement, LDM and Cargo. This in turn allows smooth operation management for airline operation control departments.
---
Components
Reporting

Administration

Operations
Management

Schedule
Display

Communications
---
Key Features
Advanced display management
Gantt chart and grid view systems support
Report integration
Template report sets
Operational message handling
Fully compliant with IATA standarts
Fully integrated with other Crane aitline IT solutions
Schedule planning module interaction
Periodic flight updates
SITA message handling
Airline operations control
ATC, EUROCONTROL messages
DLA, CNL message handling
---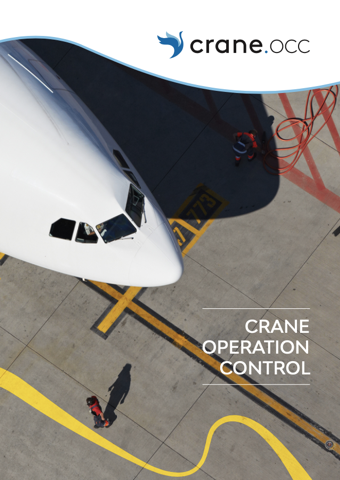 Download
Brochure
Download our up to date brochure in pdf format.